How does the New Homes Customer Survey work?
Every month, participating house builders submit details of all completions and corresponding new owner details to Premier Guarantee. From there, Premier Guarantee handles all the work for you.
We send out postal, email, or SMS survey invitations to your home buyers eight weeks from the date of completion, depending on the data submitted and according to any contact preferences.
Home builders can access the results via an online survey portal. The portal also includes a dashboard that gives a snapshot of feedback received, useful for benchmarking and reporting back to the business.
What is the Home Builders Federation (HBF)'s Star Rating scheme?
The HBF's Star Rating scheme was launched in 2005 and since then has become one of the largest new home build satisfaction surveys of its kind in the UK.
As well as a providing a key indicator of how well developers are performing, home builders often use their star rating to promote high levels of customer satisfaction to potential new buyers.
HBF member builders and developers who build at least 20 units a year can opt into the scheme by joining Premier Guarantee's New Homes Survey.
How does the New Homes Survey work in conjunction with the HBF Star Rating scheme?
If you are a HBF member and you choose to opt into the HBF Star Rating scheme, we will collate and send the feedback we receive through the New Homes Survey to the HBF so they can calculate your final rating.
The HBF Star Rating scheme survey year runs for 12 months from 1 October to 30 September and is based on the legal completion date of new homes.
You do not have to participate in the HBF scheme to take part in the Premier Guarantee New Homes Survey and you will enjoy the same access to results via your online portal.
What can I do with the Star Rating Scheme results?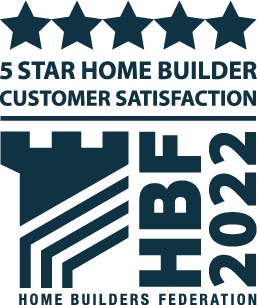 The HBF will inform participating companies of their Star Rating once all ratings have been collated and independently verified.
Companies may publish their own star rating percentage alongside their star rating for the respective survey year. Many do so for marketing and promotional purposes.