Known as 'the silent epidemic', the mental health crisis in construction is difficult to address as many of the workers affected find it difficult to speak out about their issues.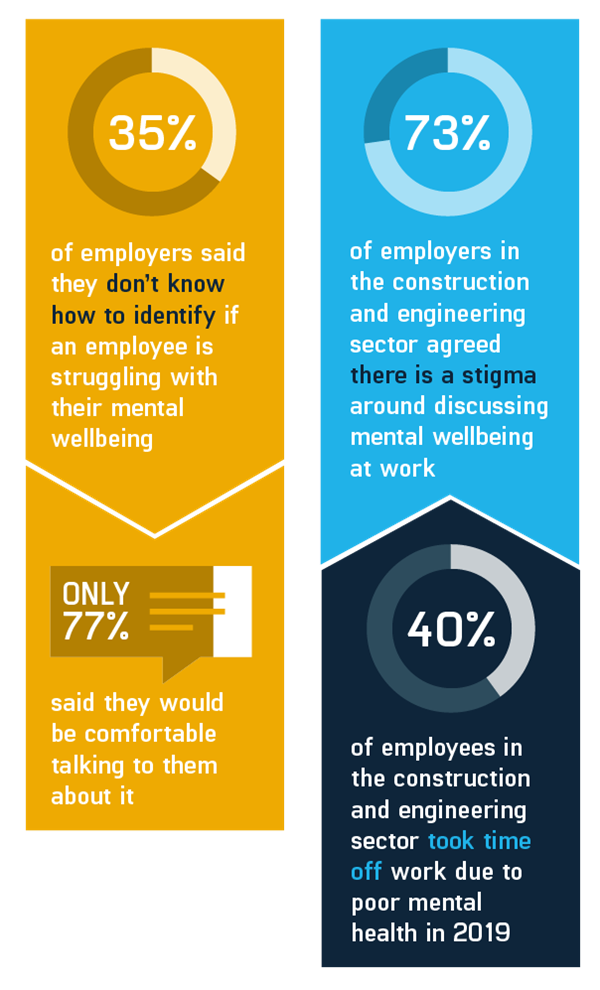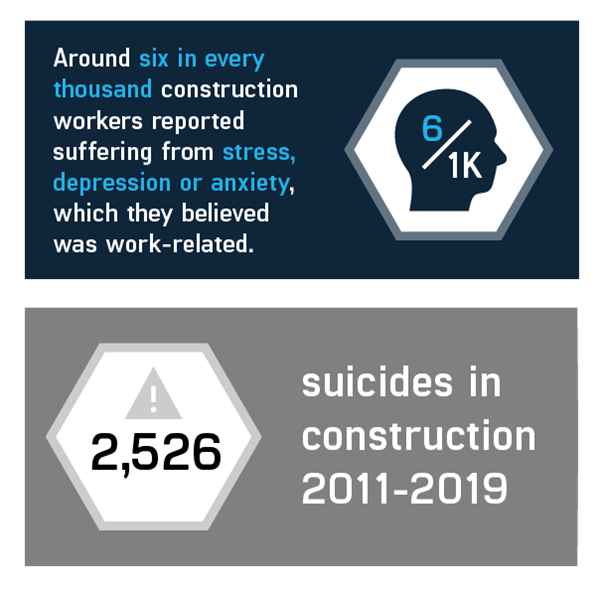 Infographic stats:
• There were 2,526 suicides in construction between 2011 and 2019
• 35% of employers said they don't know how to identify if an employee is struggling with their mental wellbeing and only 77% said they would be comfortable talking to them about it
• Around six in every thousand construction workers reported suffering from stress, depression or anxiety, which they believed was work-related
• 73% of employers in the construction and engineering sector agreed there is a stigma around discussing mental wellbeing at work
• 40% of employees in the construction and engineering sector took time off work due to poor mental health in 2019
What are some of the causes of stress in construction?
According to a report by the Institution of Occupational Safety and Health (IOSH)1, the causes of work-related stress in the construction industry relate to:
long working hours
heavy workloads
tight project deadlines
fear of redundancy
lack of job security
This work-related stress impacts on family life, not only in terms of the financial instability burdening the roles within the industry, but also in terms the long travel times and separation from spouses and children while workers are away on distant sites. Being a high-risk occupation, the worry about possible injury or even death while on site is not far in the back of the minds of construction workers and their families.
So what can be done to help?
The IOSH report on stress in the construction industry highlights the importance of available and approachable managers. It advises that managers should undertake training in order to spot potential mental health issues, such as looking out for changes in employee's performance and behaviour. They are encouraged to speak to those who are showing signs of poor mental health, as that first move can really help to get the conversation started.
It's also important that the culture of the workplace is considered. Is there a stigma surrounding mental health? Is it not considered as important as physical wellbeing? Workers should be encouraged and supported to discuss their problems through an open and transparent company culture. Workplaces can also bring about a change in mind set to staff and management by providing opportunities for wellbeing activities and events, and by building mental health awareness into workplace policies.
Links to helpful mental wellbeing resources:
Sources:
1. IOSH: Mental Health in Construction 
HSE: Construction statistics in Great Britain 
ONS: Suicide by occupation, England and Wales
PBC Today: Improving mental health in construction 
---
Read more articles on the Resource Hub or sign up to receive our blog round-up.
---