A level of deviation in measurements is extremely common when constructing with bricks and block. In the manufacturing process alone bricks can deviate a couple of mm in size resulting in uneven brickwork dimensions.
Acceptable tolerances, the difference between the goal measurement and actual achieved measurement, are therefore used to provide builders with flexibility to achieve standards. Making allowances for deviation whilst ensuring it will not affect the overall finish of the development.
The below summarises the Premier Guarantee technical guidance on brickwork and plastering tolerances found in version 13 of our technical manual. Click here to download a full version of the standards.
Straightness in section
The maximum deviation allowance is 10mm in any 2.5m height of wall.
Using 25mm wide spacing blocks, the masonry line should be anywhere between 15mm and 35mm from the reference line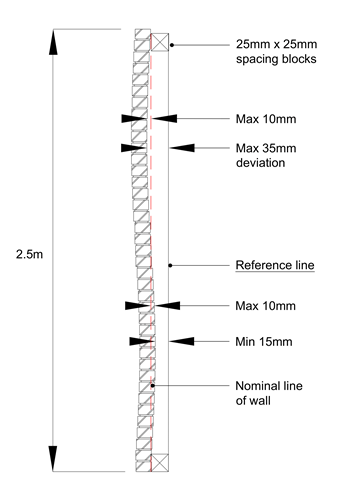 Straightness on plan
The maximum deviation is +/- 10mm in any 5m wide wall. There should be a maximum deviation in any length of wall up to 5m.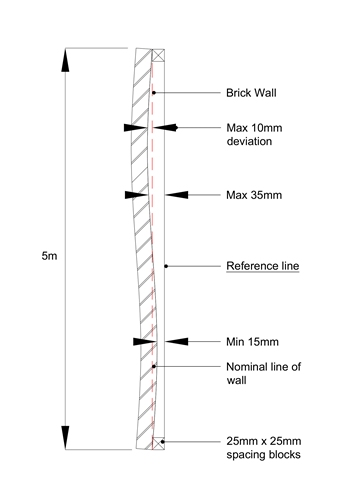 Plumb of wall: overall height
There should be a maximum deviation of 20mm in the overall height of a wall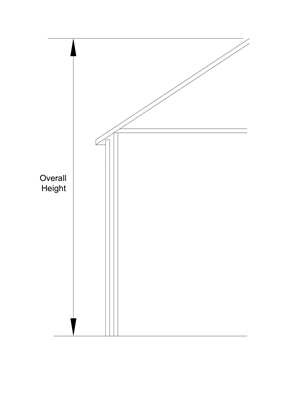 Plumb line of wall: Storey height
The maximum deviation allowed is 10mm in a storey height of approximately 2.5m. Using a 50mm wide spacing block, the plumb bob should be between 40mm and 60mm away from the wall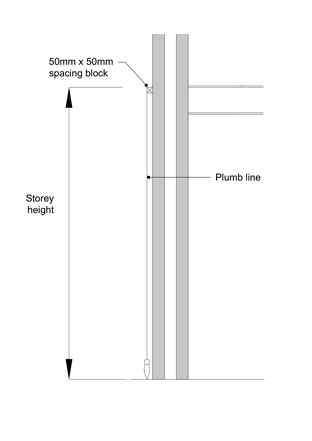 Level of bed joints
A 10mm deviation is suggested for walls 5m long (a pro rata tolerance is applicable for walls less than 5m long), and a 15mm maximum deviation for walls over 5m long. There should be no recurrent variations in the level of the bed joint line.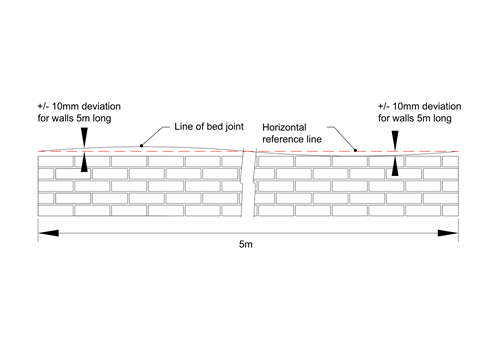 Thickness of bed joints
The thickness of an individual bed joint should not vary from the average of any 8 successive joints by more than 5mm.
Perpendicular alignment
Vertical alignments of perpend joints should not deviate from the perpendicular to an extent which impairs the structural stability of the wall.
As a result of the manufacturing process, not all bricks are uniform in length. Therefore, not all perpend joints will align. However, there should be no collective displacement of the perpend joints in a wall.
Rendered walls (plain)
Unless otherwise specified, apply the render coats to produce as flat a surface as possible, and where appropriate check the surface by measuring between the face and any point along a 1.8m straight edge placed against it. The flatness of the rendered finish will depend upon the accuracy to which the background has been constructed, the thickness of the render specified and whether grounds and linings are provided and fixed to a true plane.
For render less than 13mm thick, a no tolerance limit is realistic. Significant cracks in the render, or other damage, such as chips and marks greater than 15mm in diameter, are considered unacceptable.
Fair-faced brickwork and blockwork
Fair-faced masonry should be completed to a reasonable level, ensuring texture, finish and appearance are consistent. A reasonable appearance for single leaf 102.5mm brick walls should be to have one finished side only. A neat and tidy finis should be applied to the other side.
Shrinkage due to drying out could lead to the fracturing of un-plastered blockwork walls, although cracks of up to 3mm are generally normal due to thermal movement and drying shrinkage.
Tile hanging
The uniform appearance is to be maintained for panels of tile hanging, especially at abutments.
The above guidance was taken from Version 13 of the Premier Guarantee Technical Manual, released April 2020.