Download a PDF version of this article.
This technical article provides additional guidance on mortar bedded ridges and hips and the use of mechanical fixings. It is important that all workmanship carried out during construction is completed in accordance with the relevant tolerances.
Loose ridges and hips are a major issue to all building warranty providers, as the defect can be deemed as valid for the whole ten year period of cover. In 2012, the Premier Guarantee Warranty Technical Manual included the requirement to mechanically fix mortar bedded hips and ridges as the quality of the mortar could not be relied upon. There has been some concern that the guidance is vague as to how to mechanically fix, however both Marley and Redland now have a mechanical fixing specification, and these details are illustrated below.
Requirements
In addition to the requirements laid down in the Premier Guarantee Warranty Technical Manual Section 11.4 – 11.6 Roof Coverings – Traditional Slates and Tiles, the following manufacturer's guidance should be adopted.
Figure 1 Marley Eternit fixing detail
Please note that Marley use a fixing clip between ridge tiles as to avoid drilling through the tile.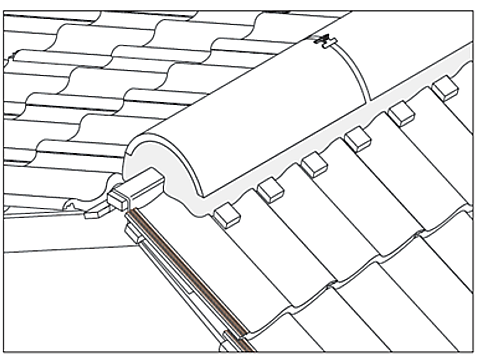 Figure 2 Redland fixing detail
Figure 3 Section through ridge
Please note: Marley Eternit also provide a security ridge strap fitting which is also considered acceptable.
Summary
Developers should expect the risk management surveyor to highlight the risk of ridges and hips at the initial site meeting or initial risk assessment stage. The surveyor should encourage the developer to use a "dry fix system". However, if the developer still wishes to use a wet bedded ridge/hip, the guidance in Section 11 Roofs applies for the fixing of ridge.
---
Read more technical articles on the Resource Hub or sign up to receive our blog round-up.
---
Every care was taken to ensure the information in this article was correct at the time of publication. Guidance provided does not replace the reader's professional judgement and any construction project should comply with the relevant Building Regulations or applicable technical standards. For the most up to date Premier Guarantee technical guidance please refer to your Risk Management Surveyor and the latest version of the Premier Guarantee Technical Manual.